Here's how to enable Nomorobo on Comcast XFINITY:
*Please note: Xfinity Voice customers must have the Unlimited or Unlimited Select voice plan in order to use Nomorobo. At this time, Nomorobo is NOT compatible with Xfinity Voice Unlimited Saver or Local With More call plans*
2. Log in using your XFINITY username or email and password.
4. Click on the Voice tab.
5. Click on the Settings icon
in the top right corner of the page and click on Settings.
6. Click Advanced Call Forwarding.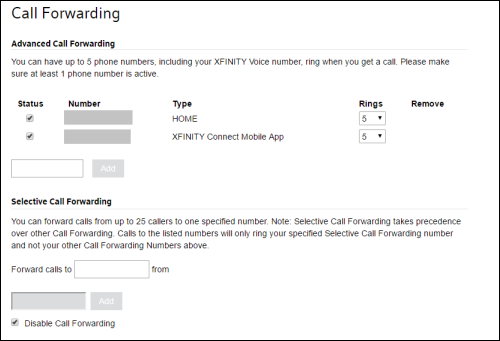 7. Add the Nomorobo Number, shown in your control panel, to your Advanced Call Forwarding list.
*Both the Nomorobo Number and your Home Phone Number should be checked ON and set to ring for the same amount of rings*
8. After you've completed those steps, go back to your Nomorobo Account.
Go to "Your Phones" and click "Test" next to your number. Then click "I'm ready. Call Me Now."
You will immediately receive a call letting you know if everything is setup correctly. Please pick up the phone after the third ring.
9. Your number will now be listed as "Protected".
** If you have it set up exactly right, but the test call says otherwise, please go to this link for further instructions: Click HERE